Three Waters Update - 09 March 2022
Submitted by

Vince

on Wed, 09/03/2022 - 12:52am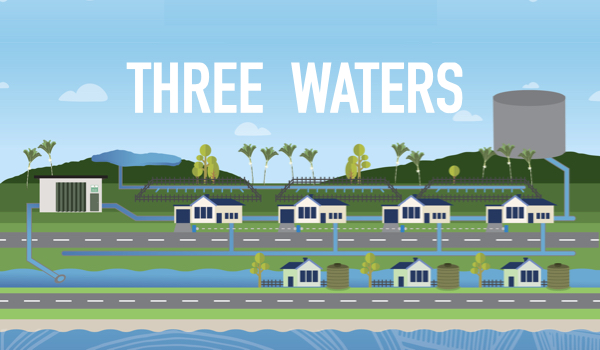 The latest 3 waters updates.
On the 9th of March 2022 the Working party released a report which suggests some changes to the Government's proposal Bill to amalgamate the 3 waters (Drinking Water, Stormwater and Sewerage) into 4 regional bodies.  You can read the working party review on the DIA website site https://dia.govt.nz/Three-Waters-Reform-Programme
In summary the recommendations to the specific Bill are:
Community ownership of water services assets
Protection from privatisation
A stronger voice for local communities in drinking water, wastewater and stormwater network development
Strengthening Te Mana o te Wai
Co-governance embracing Te Ao Maori to improve Three Waters service delivery and environmental protection.
What do these recommendations mean?
Basically, the working party would like to create a public shareholding structure, with shares held by councils on behalf of their communities.  The shares of each entity would be distributed on a proportional basis being determined on the population of each Council.  However, this can be seen as a sleight of hand, as these aren't real shares in the typical view of shares.  All they do is to allow the Councils to vote on whether to sell and assets or not.  In other words, it looks like Councils own these entities, but they have virtually none of the rights and privileges of ownership.
In the governance role the Government proposed Bill wants to create the 4 entities, and a thing called the Regional Representative Group would appoint the directors of these entities.  In other words, both the government and the working party are suggesting creating another arm of governance and in both situations, these would be made up of 50% shareholders of each Council and 50% of Iwi/Hapu.
The Governments Bill assumes that the assets belong to the people of New Zealand, here I feel they do not understand correctly.  The Bill forgets to acknowledge that when someone builds a house, and pays rates, or pays development contributions, they are paying for the assets that are going to be installed or have been installed in a Council controlled area to service that area, as per listed in the Councils Long-term planning documentation.
The Working party attempts to make an effort to acknowledge the existing owners, by offering shareholdings to each Council for the proposed entity, and that shareholding will be a proportion of population of each Council.  As an example, Entity A, which includes places like Far North, Kaipara and Whangarei could be ignored due to Aucklands larger population.
Another major aspect that appears to be bypassed is that of the involvement of local Iwi/Hapu.  While presently local Iwi/Hapu can have a say in what happens in their area due to the annual and long-term plan processes.  The Governments Bill offers 50% governance to Iwi/Maori where these people may not associate to the local Hapu of an area.  For Northland, it is almost like Ngaphui, who have not settled their claim with the government, are being walked over by other more settled tribes of New Zealand?
Going forward the stance that Whangarei District Council, and some of the other Councils around New Zealand are making about the government Bill is very strong, yet there is always a chance that a majority ruling government can and could override any democracy process or wish of the community.
Cr. Vince Cocurullo, Okara Ward, Whangarei District Council.
END