COVID19 Rate Rise or Drop for WDC
Submitted by

Vince

on Mon, 27/04/2020 - 11:26pm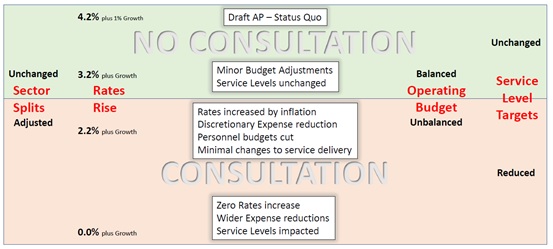 The Whangarei District Council, this Thursday (30th April 2020) will be getting the Councillors to vote a few items that will directly affect Whangarei's CBD and business world.
http://www.wdc.govt.nz/YourCouncil/CouncilMeetings/Pages/From-July-2017-Meetings.aspx
Item 6.3, Due to the increasing pressures of COVID19 on the financial stability of Whangarei, the WDC Councillors will be looking at voting a change in the rating system for the upcoming 20/21 year.  This vote will however produce a consultation period of 2 weeks if the Councillors choose to vary from the Long-Term Plan.  The LTP presently states that the rate payers of Whangarei for the year 20/21 were looking at a rate increase of around 5%.  Previously all 4 Okara Ward Councillors have pushed for 0% rate increases, so that the Council keeps the momentum on addressing the needs of the community.
The three options on the table that are not status quo include:
Minor Budget adjustments, No need for consultation (3.2% increase plus growth)
Rates increased by inflation only, Consultation required (2.2% increase plus growth)
Zero Rates increase, Consultation required (0% increase plus growth)
Cr Cocurullo, one of the Okara Ward Councillors, believes that a Zero rate increase for this coming year 20/21 is the most sensible option to go out to the public with.  "At this stage, according to what the Council staff have put in front of us, and to prove we are actually listening to our rate payers, and hearing the concerns of our commercial property owners, a Zero Rate increase this coming year is a good start to go out to our public to comment on." Cr Cocurullo "However, what truly needs to be discussed is how SUIPs are affecting the commercial properties going forward"
Cr Cocurullo, also states that he believes Whangarei Growth due to the COVID19 situation will not slow down. "More people will be moving North from Auckland, as we have a better place to live, more open spaces, bigger sections and technology is now allowing more professionals to work remotely, and then being only 2 hours from Auckland for those who need to travel to Auckland, why wouldn't you move North?" Cr Cocurullo
Then Item 6.4 on the agenda, which is proposing to create a Commercial Property Committee, which includes 5 Councillors with Cr Innes chairing the committee.  The Committee is to look at the buying or selling of land/properties within Whangarei as directed by the full Council, always looking at how Whangarei is growing and what is best suited for the land.
With a full agenda planned for the 30th of April, Councillors will be testing the skills of those chairing the meeting and the ability of the technology to provide what is needed for robust discussions.
END.