Northland Youth Theatre Pledge
Submitted by

Vince

on Tue, 15/01/2013 - 7:33pm
Have you been to a Northland Youth Theatre Performance?  Would you like the chance to goto a Northland Youth Theatre Performace?
In February 2013 the Northland Youth Theatre are putting on a show called the Odyssey, it is based at the Quarry Arts Centre, 21 Selwyn Ave in Whangarei.
There will be shipwrecks, prophecies, battles, muses, feasting, bicycles, and BBQs!
They plan to spin in our trademark menagerie of youth, joy, surprise, song, carnival and everything else that makes the Northland Youth Theatre.  This is one of the oldest stories in the world...and they plan to show us why it's still around.
So come along and find out your fortune, meet your destiny, be captured by a goddess, fight the cyclops, brave the stormy seas and endure the six-headed monster.
Interested and would like to know more - https://www.pledgeme.co.nz/708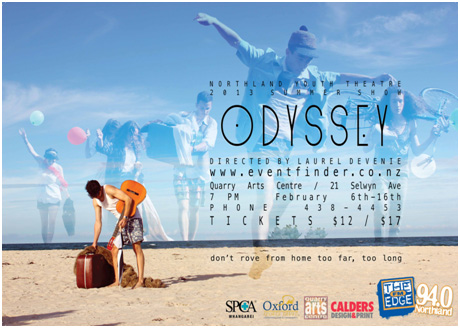 The Northland Youth Theatre would like to raise some funds to for the ongoing support of the show, and if you following the link above you will be directed to the page where you can make a donation.
Youth Theatre is an important part of the growth of Whangarei.