June 19 - What Would A New Theatre Do For Whangarei?
Submitted by

VinceAdmin

on Mon, 18/06/2018 - 10:53pm
by Vince Cocurullo
Whangarei District Councillor, Okara Ward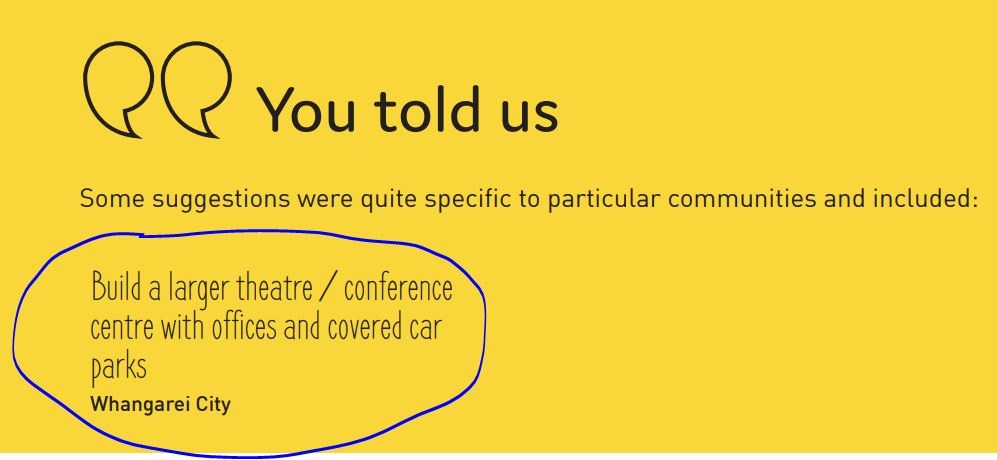 Last weekend's 'Because of Joan' tribute to local opera legend Joan Kennaway could have been a lot bigger, if Whangarei had a larger theatre. The show was held in the Capitaine Bougainville Theatre at Forum North, which was filled with paying guests, with many people asking on Facebook if anyone had any more tickets.
The Whangarei District Council has budgeted $10.5m for an additional theatre to be built around 2020/21, yet it's planned to be roughly the same size as the Turner Centre in Kerikeri which has approximately 780 seats. Whangarei is supposed to be a regional centre for the growing Northland population, so are the few seats at For
Presently Forum North has a theatre which holds approximately 350 seats and an Exhibition Hall that holds 450 seats. ASB Kensington Stadium holds 600-1700 seats and the various halls and stadiums around Whangarei hold between 150 and 500 seats, excluding school properties.
So is a larger theatre needed in Whangarei?
I have attended various shows and performances over the years in Northland, along with many Long-Term Plans, and every time I attend them I hear the same message: "Whangarei needs a 1000 seat-er."
The Whangarei District Council, during debating time last month, talked about having a new building for the staff, however with a split of 7/7 and the Mayor having the casting vote, they decided not to include the concept of a new theatre within the considerations for the new Council building. So what does this mean?
A few councils back in Whangarei, the library needed a new building, however the Council of the day decided to build the new library in the exact location Whangarei's new Theatre was going to be built. So has Whangarei missed the boat for growing a new theatre and exhibition hall?  Or are they leaving it up to Shane Jones's Regional Development Fund? Or some other developer to come up with the project?
Your District Council is there to plan for the future of the district. That means infrastructure growth, checking what size roads need to be, where water storage needs to be, where parking should be, and where and what size our performance areas need to be.
Our council seems to be treading water at the present time. I say we should be more future-focused.